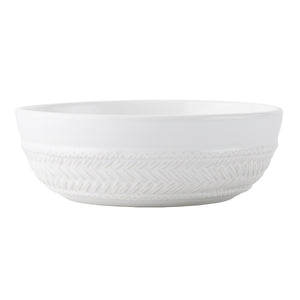 Juliska Le Panier Coupe Bowl in Whitewash
Have more of what you love in this prodigiously portioned bowl that is rimmed with our rich basket weave. Both sophisticated and rustic, it begs to be filled with soul-soothing, one-pot comfort fare like beef bourguignon or gumbo.
Quantity Desired: 8
Quantity Received: 0    
Dishwasher (avoid high heat), Freezer, Microwave and Oven Safe (up to 500 degrees).
Measurements: 7.75"W x 2.5"H x 7.75"L
Made in: Portugal
Made of: Ceramic
Volume: 1.125 Qt.