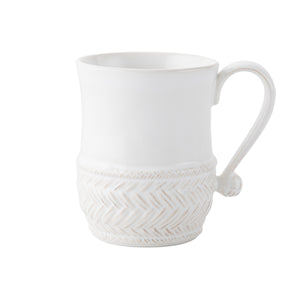 Juliska Le Panier Mug in Whitewash
For a morning cup of cafe au lait or steaming tea - after late-night feasting with friends - this mug suits masculine and feminine sensibilities equally. A basket-weave motif at the base lends a traditional air while a graceful handle is finished with a sailor's knot.
Quantity Desired: 4
Quantity Received: 2
Dishwasher (avoid high heat), Freezer, Microwave and Oven Safe (up to 500 degrees).
Measurements: 3.5"W x 4.5"H x 5.25"L
Made in: Portugal
Made of: Ceramic
Volume: 15.0 Oz.